Jim, from Cleveland, OH, is an avid cyclist who spends most of his time on the Ohio and Erie Canal Trail. Having explored over 100 miles of that trail system, Jim decided it was time to explore other trails and try out a multiday trip. Having read an article about the Great Allegheny Passage and the C&O, Jim decided to do the entire trail in one ride.
As with many trips this last summer, Jim's plans got derailed. Between the tropical storm Gordon and hurricane Florence, Jim decided to reschedule the GAP and C&O trails and instead tackle the Katy Trail, where the weather looked to be a bit more predictable.
The Katy Trail is a state park that runs east-west through central Missouri. It's a recreational rail trail 240 miles (390 km) long and it follows the former Missouri–Kansas–Texas Railroad. The nickname "Katy" comes from the phonetic pronunciation of 'KT' in the railroad's abbreviated name, MKT, and it is one of the country's longest Rails-to-Trails systems.
The Katy Trail is similar to the GAP in overall experience. Peppered with charming small towns, the trail is not quite as smooth as the GAP's crushed limestone but is close second. Unique to the Katy are the scenes of prairie and soybean fields, wineries and grain silos, plus the mighty Missouri River running alongside.
Jim did an amazing job at detailing his preparations for the trip and his actual bike trip in a series of blog posts. Below are a few highlights we've pulled out that may be of benefit to others who are considering a Katy Trail tour with us.
Training:
Jim trained for four months, putting in approximately 80-100 miles each week (a combination of outdoor trail riding and indoor trainer riding). Jim writes "The main training objective was to get used to spending 5 to 6 hours per day in the saddle."
Type of bike:
Jim rode a Trek Checkpoint SL6 "gravel" bike, a full carbon bike with wider tires for the trail. Writes Jim: "The geometry of the bike is a little on the aggressive side but I like the lean forward posture it provides. The bike has SPD pedals and I'll be wearing SPD compatible shoes (clip in for the duration of the ride)."
Purchasing gear:
"I used a review website (dcrainmaker) for gear advice and reviews. Ray Maker is an interesting individual who writes a blog about sports and fitness tech. The links I've included regarding the gear are linked to his site. If you decide to purchase something, do it through his site."
Terrain:
An excerpt from Jim's blog included a description of the scenery on his first day of riding. "The first part of the trail was fairly open and followed a highway for about 5 miles. We veered away from the highway and headed through a number of open fields. The open fields soon turned into tree covered "tunnels" as I made my way across the farm land."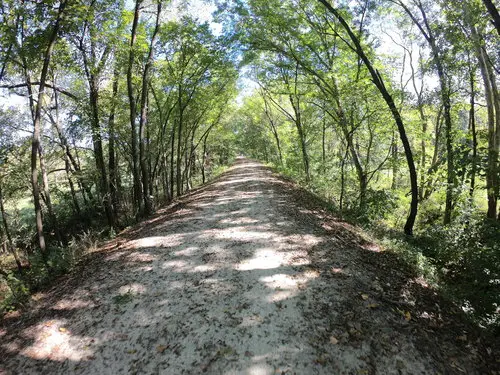 Descriptions of towns/stops:
"I stopped at a bike shop at the trailhead and a very nice proprietor allowed me to check my tire pressure and fill up. It was a short ride from that point to the Hotel Frederick which was my stop for the night. Boonville is a quaint small town on the Missouri River. Since the restaurant was closed in the hotel, I walked a around "Main Street" and found a nice little local restaurant."
This is just a sample of the great commentary to found on Jim's blog. We very much enjoyed reading it and Jim allowed us to promote it since it provides such a great firsthand account of his actual experience on the Katy Trail.
In addition to great exercise and travel, Jim's trip also was a fundraising effort for Bike Cleveland (BikeCLE). Bike Cleveland (BikeCLE) is a 501(c)(3) advocacy non-profit organization for people on bikes in the Greater Cleveland area. Representing over 1000 dues paying members and more than 32 local businesses, they make sure that any time the conversation turns to transportation — that people on bikes are being considered alongside people in cars. They work to improve policy, infrastructure, and legislation to help make our roads places that serve people and communities, not just traffic.