C&O Canal Towpath
Included in these categories:
4 Day
Self-Guided Tour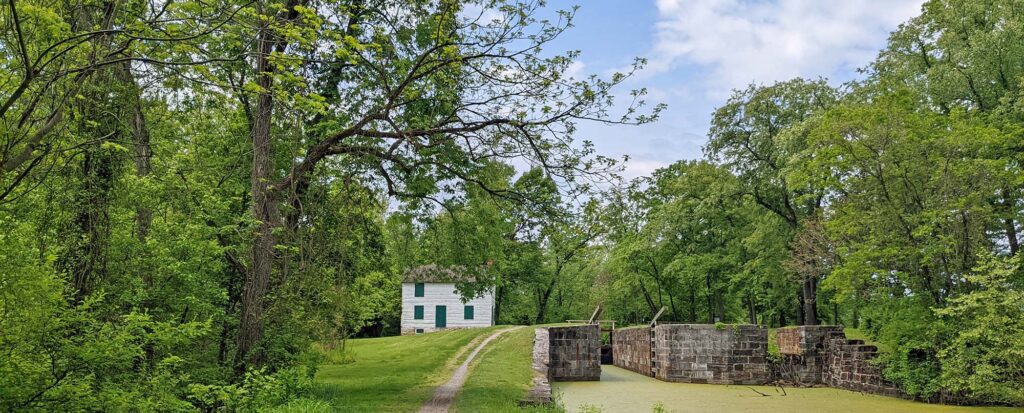 What's included
| | | |
| --- | --- | --- |
| | For Double Occupancy | For Solo Riders |
| Tour and Shuttle | $730 per person | $1,415 per person |
| Tour, Shuttle and Luggage Transfer | $995 per person | $1,950 per person |
$295 off if not taking a return shuttle.
10% discount for groups of 6 or more (requiring at least 3 double occupancy rooms).
Our C&O bike tours utilize the best in local B&Bs to ensure a comfortable and refreshing stay each night. Most B&Bs and hotels are located right next to or within easy biking distance of the trail (shuttling is included for the Town Hill B&B).
We choose only rooms with private bathrooms, and most have one queen bed. Some B&Bs offer rooms with two separate beds, and some have suites which allow up to 3 guests (typically these rooms have a queen and single bed or air mattress).
A one-way shuttle between D.C. (the Thompson Boat Center where Mile Marker 0 is located) and Cumberland is included in all tours, but can be removed. The drive time is approximately 2.5 hours barring unusual traffic. Shuttles commonly run at 2 p.m. or 11 a.m. but this can be altered. Talk with your trip coordinator when booking about your scheduling and location needs.
Daily luggage shuttling can be included on this tour. Riders not returning to Cumberland must have a secure location in D.C. for luggage to be dropped off (such as a hotel).
Luggage must be ready each day by 9 a.m. and is transferred to your next overnight location by 4 p.m. We request each rider bring one carry-on sized piece (approximately) and one smaller, personal bag. Luggage should weigh no more than 40 lbs per person. Odd-sized and/or bulky pieces such as bike stands, coolers, or bike racks are not permitted.
Riders with luggage not ready on time or significantly overweight or oversized will be charged an added fee.
Most breakfasts are included in our C&O tours (all included meals will be noted on your tour quote). For non-included meals we provide daily suggestions and a list of recommended restaurants. Those with significant dietary restrictions, please advise us at the time of booking so that we can communicate this to your B&B correctly.
In smaller towns, some restaurants will close one day a week and often that will be on a Sunday, Monday, or Tuesday.
Vegetarian and vegan options are relatively accessible along the trail and can be accommodated by all B&Bs we book. The exception is between Cumberland and Hancock, where we will advise riders to pack food from Cumberland for meals other than breakfast.
All riders will receive access to our Ride with GPS Trip Experience created just for this itinerary. You do not need to have a personal account to use the premium features included. The Experience provides you with a daily itinerary, including where to eat each day, trail highlights, and any specific instructions, all easily accessed on your phone.
It also includes digital mapping with offline voice cues and other premium features. Mapping can be downloaded for use on Garmin and other devices, as well.
Itinerary
Riding out of Canal Place in Cumberland, you begin your tour on the C&O Canal Towpath. The towpath was a historic engineering marvel, and you'll see why as you ride its 185 length. The Paw Paw Tunnel is a particular highlight of your ride today (be sure to have a light) and perfect for photos ops. Upon reaching the Fifteenmile Creek Recreation Area you'll take the turn up the road to Bill's Place and stop for dinner. Call your B&B to arrange for your shuttle ride up the hill and learn why Town Hill B&B is a piece of National Road history and unbeatable kitschy fun!
Meals: On Own
Overnight: Little Orleans
After a shuttle back down the hill to the towpath, you can choose to ride the C&O all day or take a break on the paved Maryland Scenic Rail Trail which parallels the towpath just west of Hancock and then beyond to Fort Frederick. Stop in the town of Hancock for lunch. For history enthusiasts a stop at the reconstructed 18th century Fort Frederick may be in the cards. End your day in the canal town of Williamsport.
Meals: Breakfast
Overnight: Williamsport
After breakfast in Williamsport it's back onto the C&O and more riding. The Big Slackwater section (around MM 85) is unique on the towpath as you ride  on a cantilevered concrete path above the Potomac River. You can ride on water! Entering the heart of Civil War history, you'll bike near Shepherdstown, Wv. and Sharpsburg, Va., the location of Antietam National Battlefield.
Shepherdstown may be one of the cutest college small-towns in the US and has some tasty cafes and bakeries, plus great boutiques and book stores. This can be a good place to stop for lunch.
At MM 60.8 you may want to take another trail break and walk over to Harpers Ferry, Wv. The Lower Town is part National Park Service exhibit, part art shops and boutiques, and all charm. Just down the trail from Harpers Ferry is your lodging in the small town of Brunswick.
*Due to the closure of the Whites Ferry, access to lodging in Leesburg, Va., is not practical.
Meals: Breakfast
Overnight: Brunswick
After breakfast, begin your last day of riding on the C&O Canal Towpath. The trail here is well traveled and highlights include Great Falls Park (a good lunch stop), Georgetown, and Washington, D.C.! Your destination is Mile Marker 0 (we provide mapping and text since it can be a tricky marker to find) and the end of an incredible journey.
Meals: Breakfast
Spend the night in Washington, D.C. before meeting your return shuttle, if included.
Post-Trip Option: Spend an extra day or two in D.C. and explore the many bike trails that follow the Potomac, bike around the National Mall, visit some museums, or even take the Mount Vernon Trail all the way to Alexandria and George Washington's Mt Vernon plantation.

Riding the C&O Canal Towpath
C&O Canal Towpath tours are offered between April and October. This schedule is dictated by weather and trail conditions. Most riders choose to ride between May and October.
Spring on the C&O is a wonderful way to restart your cycling season. April and the start of May can have periods of rain followed by periods of gorgeous spring sunshine. Spring flowers are found all along the trail and add a special color to your trip.
Summer is ideal for riders who love the long days, sunny and dry weather. Long sunny days allow for full days of biking, side trips, and socializing.
September and October is peak season on the trail – groups should book trips at least 9 months in advance when possible. Fall foliage occurs generally in mid to late October, although exact dates do vary each year.
Bike rental can be included in this tour (Cumberland start only) through WheelzUp Adventures. Ebike rental is also available. Ask about their DC drop off fee.
C&O Canal tours start in Cumberland and end in D.C. We find this direction works best for the flow of the tour and travel logistics. The towpath slopes gradually eastward and riding in this direction means your tour is essentially all downhill.
Most tours start in Cumberland and riders can utilize Amtrak or the local parking facilities for arrival. If driving to the trail, most riders find the parking at the Cumberland end much easier, however, some may prefer to drive in and out of D.C. – we recommend using the economy lot at the Regan National Airport. Those flying into D.C. can meet a shuttle to drive them to Cumberland at the start of their tour, rather than the end. The shuttle can be scheduled for any time before the start of your ride.
Our trip coordinators are happy to discuss different scenarios to determine which starting and ending location will work best for you.
The C&O Canal Towpath is maintained by the National Park Service as more of a dirt trail/road, although improvements to the trail surface have been underway for the past several years. That said, riders will find the western end of the C&O from Cumberland to Little Orleans (where the Western Maryland Rail Trail can be accessed) to be bumpy and sometimes muddy and rutted.
Overall, the towpath is not technically difficult to ride, but you will feel the vibrations and over time it can become taxing. You pace on the C&O Towpath will likely be slower than you expect, and we recommend planning your mileage and equipment with the bumpiest part of the C&O in mind.
The C&O Towpath is a linear park and as such the NPS maintains hiker-biker campgrounds with port-a-johns and water pumps (these are sometimes capped) every 8-10 miles. There are several larger towns accessed from the C&O offering a variety of restaurants and lodgings.
Cell coverage is fairly strong on the entire trail, particularly Verizon. Wifi can be limited, although most B&Bs and hotels will offer the service. *There is no wifi and limited cell service around Paw Paw.
The best bike for the C&O  Canal Towpath is a hybrid/touring/gravel bike with at least 32 mm-wide tires with tread; 40+ wide tires are even better. We discourage the use of road bikes and tires on the C&O Towpath, where narrower tires can more easily puncture and lose traction on the soft/muddy surface. Many parts of the towpath are similar to a dirt road and there is a mounded, grassy middle berm down the center.
Trikes and bikes with trailers which have tires running along the middle of the trail can find the center berm to be an issue. That said, we have had riders successfully complete the trail on tandems, trikes, recumbents and other non-standard frames, keeping in mind tire choice other accommodations they may need to make for a dirt trail.
Remember that if you are riding with loaded panniers, the added weight will affect your tire traction. If trail conditions are wet and you are running a loaded bike, a wider tire (or less inflated tire) is recommended so you don't sink into the trail too much, making pedaling more difficult.
Have a question about this tour?
Our professional team is happy to answer any questions you may have regarding our tours.
Related Trips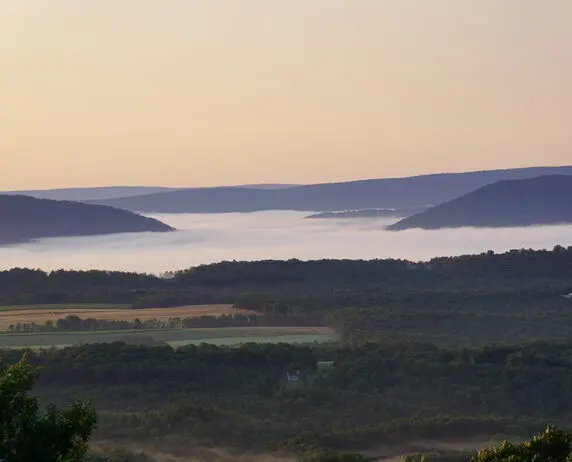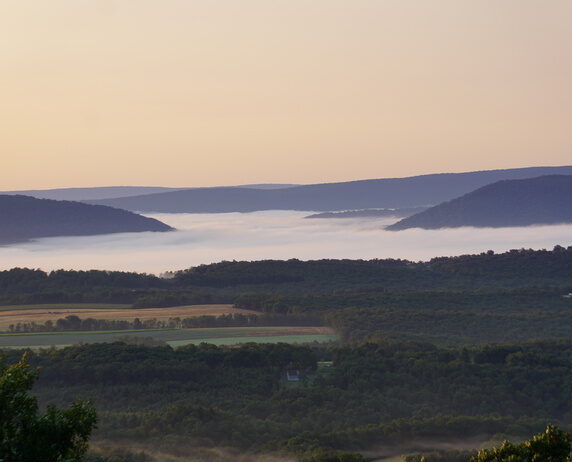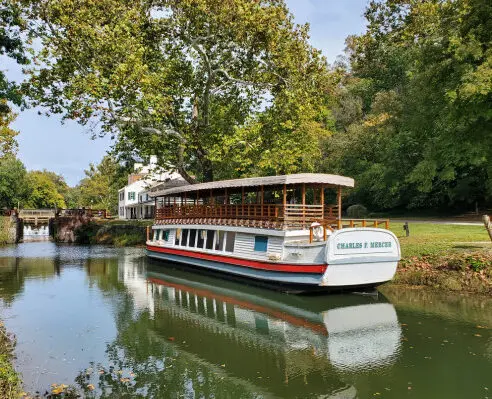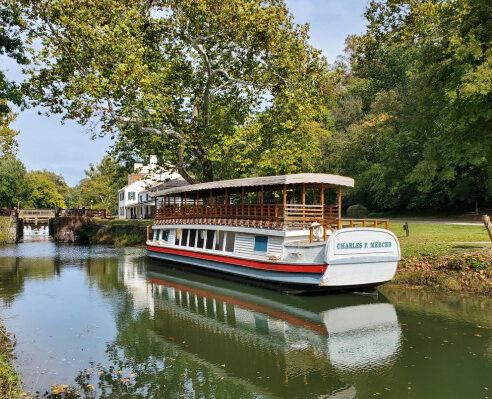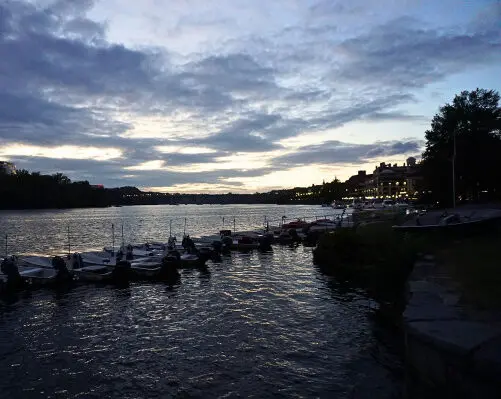 C&O 5 Day Tour
The C&O Canal Towpath is a must-ride trail for all bike travelers. Book your 5 day vacation and have plenty of time for relaxing and riding!
View Trip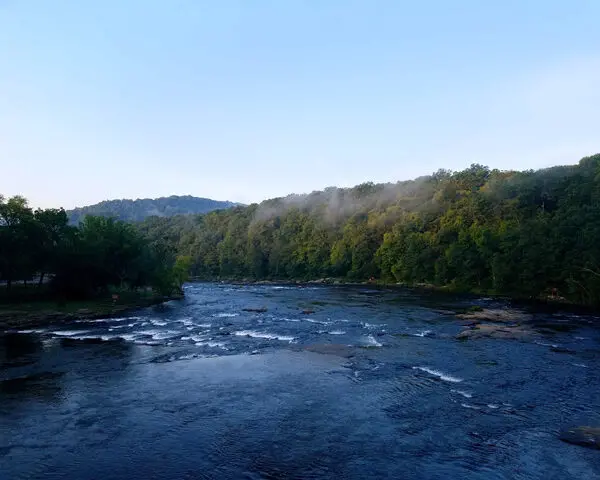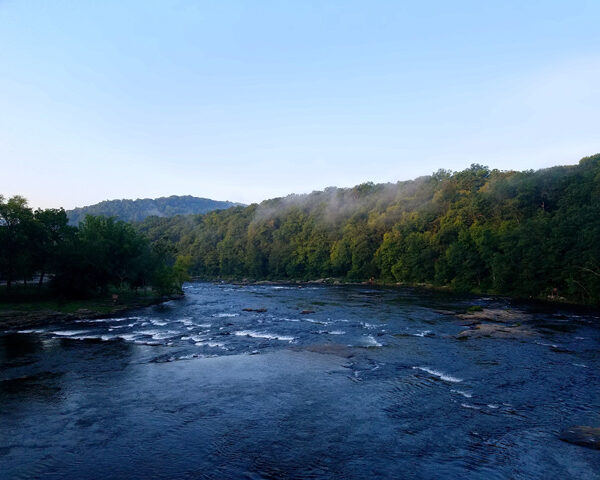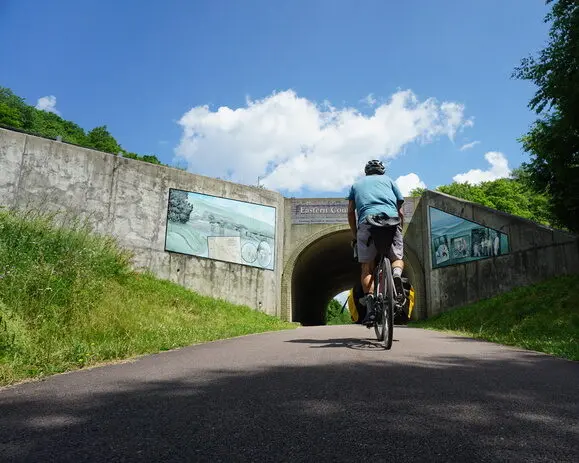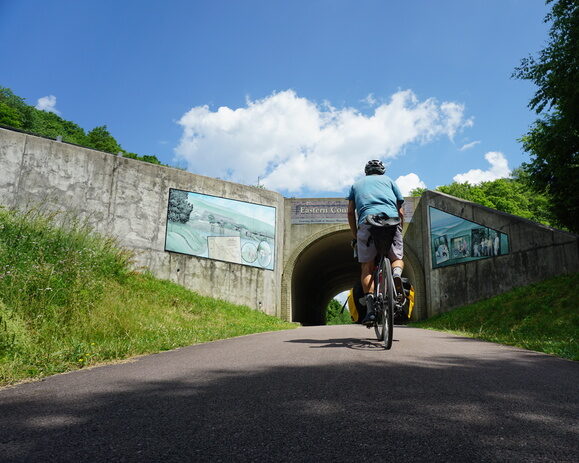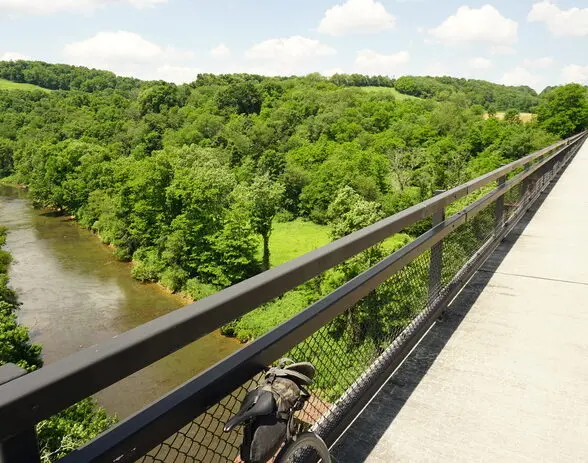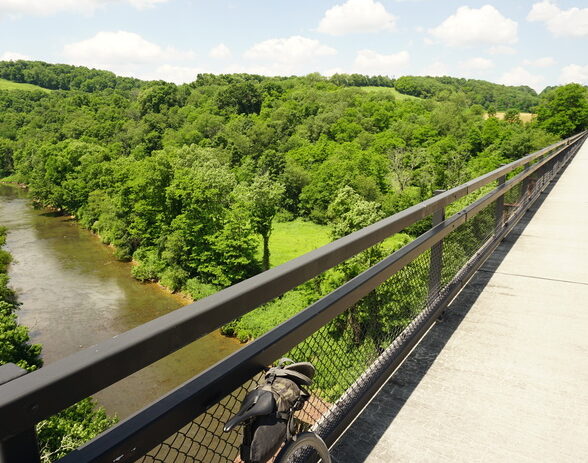 GAP 4 Day Tour
Bike the Great Allegheny Passage (GAP) for your next adventure vacation. You'll spend 4 days taking in the scenic waterfalls, woods and charming towns that dot this trail.
View Trip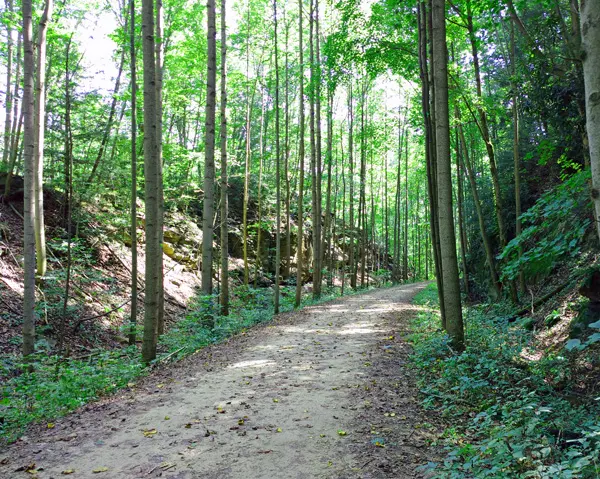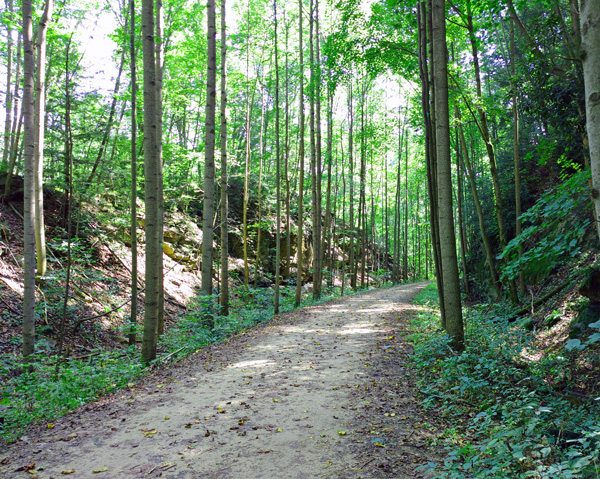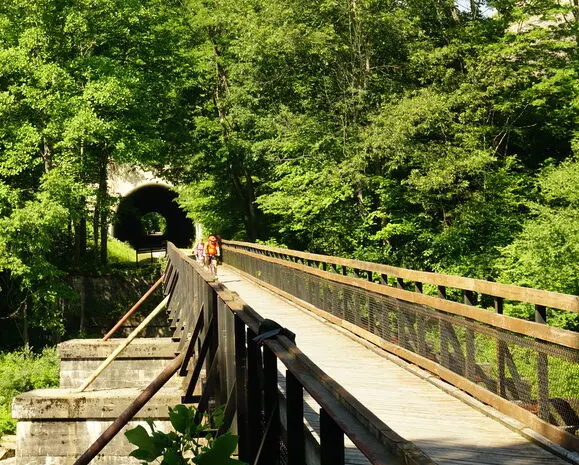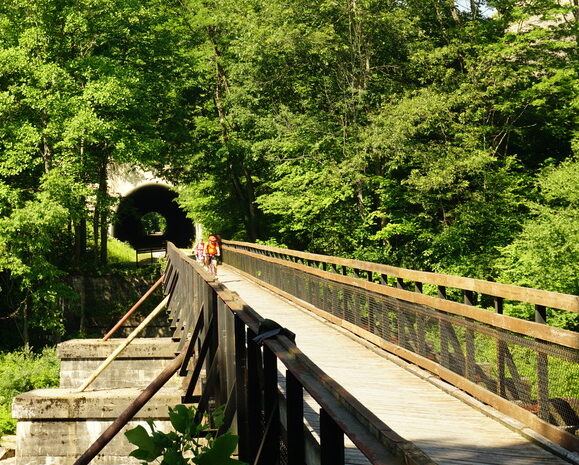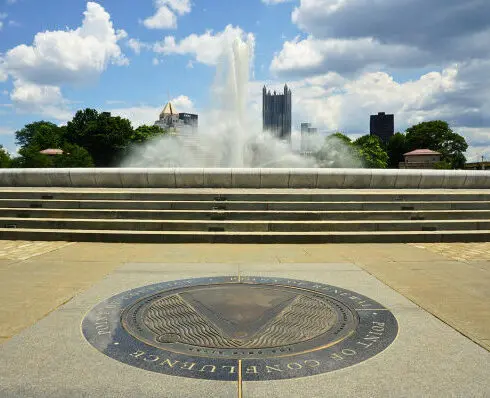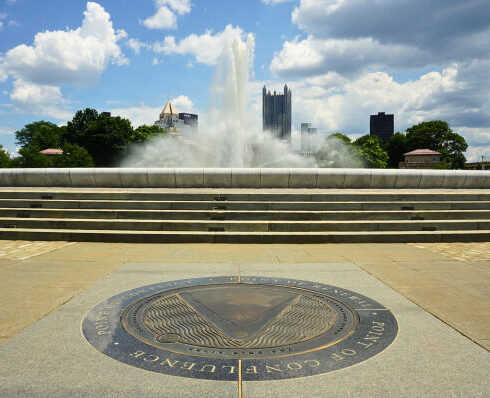 GAP 5 Day Tour
Bike the Great Allegheny Passage in 5 days and see all that the trail offers. From charming small towns to majestic waterfalls, the GAP has a taste of everything you want from a bike vacation.
View Trip


Looking for Something Different?
We are proud to offer a wide variety of curated tour itineraries on many of the nation's best trails.
Full Trail List